Lube For Sex is an authority website with focus on sexual wellness topics and personal lubricants (lubes). We've already published lots of content on intimate lubricants, and their safety. However, we still haven't written an in-depth article on best tips to use lube. So, what is a lube used for?
You will be introduced some awesome tips to using a lube in the hottest and sexiest way possible. Lubricants can be great addition to your sexual life and can provide for many health benefits to your skin.
However, choosing a lube that is not ingredient-friendly may also cause nasty problems. This is why we recommend you also check our list of 20 harmful lube ingredients, that you should avoid at any cost. Or else you may catch nasty infection, bacterial vaginosis, or even worse, for it's proven that some ingredients are so toxic, that it's even possible to develop carcinogenic tumours. Did you know that some lube ingredients contain formaldehyde?
Therefore, pick your lube wisely!
Here are some of our top picks of ingredient-friendly lubricants
OK, so you pick your lube, you have it neatly placed somewhere in your bedroom, but have no fresh ideas on how to use it. Sure, it can be used for sex, masturbation, etc. But this is all common sense and nothing new. So, what are some innovative ways to use this slippery liquid?
What is a lube used for? Lube can be used in many ways, and the devil is in the details. Thinking that a lube can only be used as addition for treating vaginal dryness or for those times when you want to go for some anal fun is what I call narrow thinking. "What is a lube used for?" – Lots of sensual activities can become even hotter with the use of lube. On the other hand, lube can also be used for treating various health issues. Good lubricants have wondrous medicinal properties.
Now let's jump into it, and have a look at the 7 most sensual lube uses, you surely didn't know of. PS: This article is made for female audience ;)
1 – Using personal lubricants for "edging"
Edging might just be the hottest experience he has ever had a chance to enjoy.
What is a lube used for? – Most definitely edging can be one of the hottest things you can give to your partner. Now don't tell me you never heard of "edging"?
If you don't know what edging is, it is a sort of teasing your partner by stimulating him with your hands, mouth, tongue, lips, and everything else you can think of … but the key is, that you don't let him finish.
You tease him, and you keep him right on the edge – thus "edging". Edging oftenly results in a lot of precum, and when you decide he should finish, there's usually a huge blast and an unbelievable orgasm for him.
The longer you edge him, more powerful his orgasm will be. So if you've been wondering "what is a lube used for" you've just received your first naughty idea.
Trust me, this is so enjoyable for a woman also. If you've done it before, you know how good all that control felt. You have complete control over him, you decide when he should cum, you decide how long "the torture" will last.
* A tip: If you want to make him go completely insane, tie him up (for real) and in the middle of the ordeal stand up and leave him there. Tell him you'll come back and finish him, if he begs. Let him beg. Make him beg for quite some time before going back on him.
2 – Lube can make for the best penis massage
Penis massage is not only hot, it is also very healthy for blood circulation.
Penis massage can be extremely sensual and enjoyable for the guy receiving it. You can start by massaging his back and shoulders and later move on to more intimate parts of his body.
If your guy is hot and muscular, you can lube up his entire body and make it shine, which will highlight his muscles and give you something nice to look at ;)
Regarding the penis massage – once you attend to it, make sure it's a massage and not just a regular jerk off. Use your palms, and massage his big boy to an extent he'll be begging for you to finish him.
Penis massage is also very healthy. Performing a penis massage enhances blood circulation, and thus provides for numerous health beneficial effects. Preventing impotence and treating erectile dysfunction are just couple of known sexual well-being benefits which may be an additional reason why you'd want to give your man an occasional penis massage.
So when you're trying to get new ideas on "What is a lube used for?" you shouldn't forget about this healthy lube technique, which no man on earth wouldn't mind receiving. Just don't spoil him. Do it for him only when he truly deserves it.
3 – What is a lube used for? – Body to body massage
You'll need plenty of lube for this, for you want both your bodies to be slippery and wet.
When someone learns about my lube collection and asks about what is a lube used for, I cannot hide the fact that body-to-body massage is something that I enjoy doing very much. Applying lube to your body and his and then rubbing against each other, while kissing, touching and caressing is just amazing.
The best video that demonstrates what I have in mind is the video below (so hot!):
Don't know about you, but this is just so hooooot to watch for me. Great looking bodies rubbing against each other, teasing and warming up for he main act.
For-body-to-body massage (also Nuru massage) you'll certainly need lots of lube, so be prepared and stock up on you slippery inventory.
The best thing that can happen is, if your man is really on the edge, he may finish (for the first time) before you two even attend to any real action. So be ready as you might need to finish him up multiple times.
4 – Apply lube on your lips and give him best oral
Yeah, the experience of giving head while applying lube at the same time is just phenomenal.
This guy who I used to date told me about how much he had enjoyed a blowjob when I was wearing lipstick. He said it was so much more enjoyable in comparison to a "normal" blowjob.
So I figured, how about if I apply some lube on my lips before giving my man a head? – Well, needless to say it worked out amazing. It turns out that applying a bit of lube on your lips, can provide for the most enjoyable oral that any guy has ever received.
Do all this in front of him if you want it to be more suspenseful. He will not know what's coming at him, when you are going to take out that intimate bottle of yours.
Or if you want to surprise him, simply do it beforehand. If you are not prone to yeast infections, you can also use a lube that has flavour added to it. Which one you like most? Strawberry? Vanilla? – There's plenty of choice in the market. However like I said, flavours may work as feeding source to Candida species, which results in Candida overgrowth, and consequently in yeast infection.
When talking about what is a lube used for, oral is one of the most satisfying uses you can try experimenting with your favourite sexual lubricant.
5 – Spill some lube between your cleavage
Order him to put his penis between your wet boobs. Lock his "hero" in-between and make him suffer.
You may view your breasts as just another part of your body, which function serves for breastfeeding your newborn baby. You can be 100% sure that guys view your boobs in a completely different manner.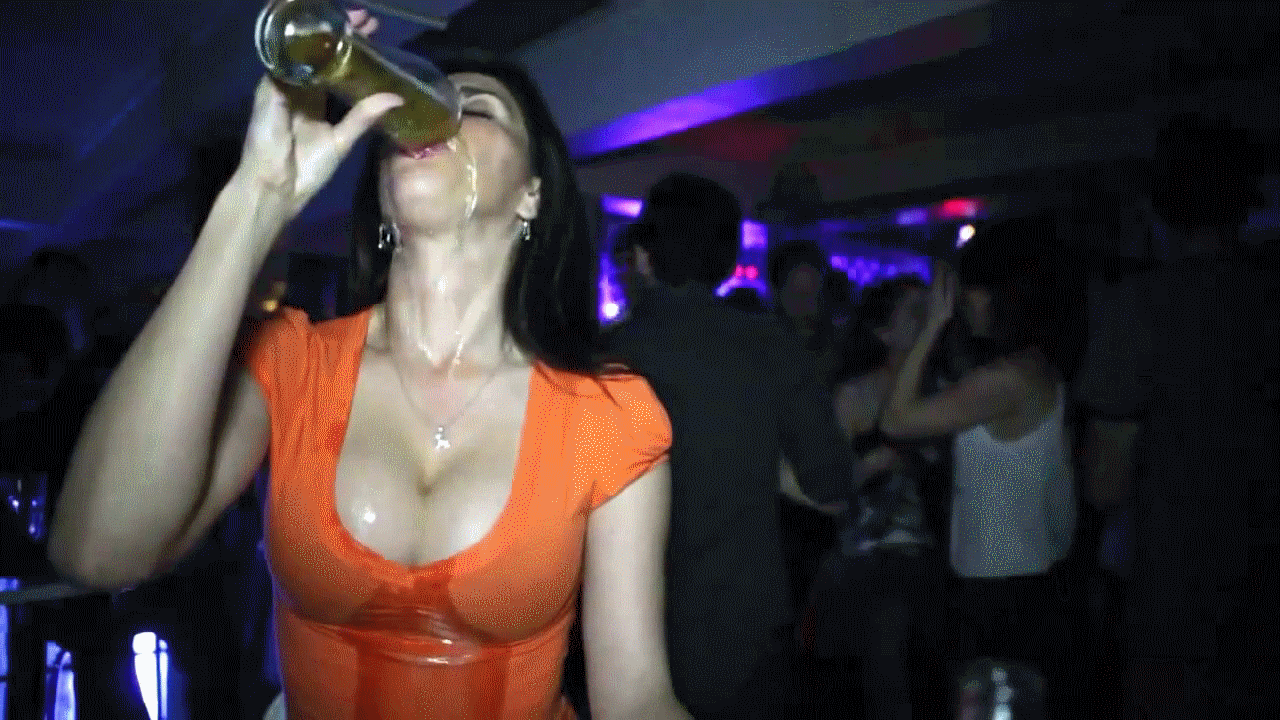 Most guys are crazy about two things:
booty;
and boobs
Yeah, I know it sounds to simple but it's true. Most guys don't care about anything else. You'd think they are crazy about your new hair style, or freshly polished nails, but mark my words – ass and boobs, that's mostly it.
Spilling some lube between your boobs and giving him the most amazing boobjob ever, is what will make him go insane. If you are wondering if your breasts are big enough, they are. All you have to do is master the technique. Even if you're an A cup you can do it. However I agree, that having larger breasts makes it a heck of a lot easier.
By the way, if your man is more of an ass type, and if you have a nicely curved booty, tell him spill some lube on your ass and to rub his penis between your ass-cheeks. This can be just as hot as the boob job itself, or even hotter!
6 – Add lube inside the condom before he puts it on
This feels unbelievable. Just be careful that the lube isn't oil based, because oils break condoms.
Mhm, when we started with my husband, I'd do that a lot. You should see the look on his face. I thought he'll faint from all the pleasure he was receiving.
Simply take the bottle of lube and the condom, and drip in a few drops. There's no need to go heavy on lube, 5-6 drops is quite enough. You can be 100% sure he's gonna love you for that! And you'll probably make him obsessed over you :)
However, caution in picking a lube for doing that is needed. That's because some types of lubricants may dissolve condoms:
Never use oil-based lube when you tend to use condoms.
Never use petroleum-based lube. It breaks condoms, and is unhealthy anyway!
Use silicone lube only with latex and polyisoprene condoms. Don't use silicone lube with polyurethane condoms.
You may want to go for a water-based lube, but make sure you get a good one. You don't want it to become sticky or dry out, which is a common feature of many low quality water lubes. Aloe Cadabra is one of the best and you just can't go wrong with it.
7 – Silicone based lube for the best shower sex ever
Shower sex is just so good, because all those tiny water drops provide for additional stimulation!
The last tip on "what is a lube used for" – water sports! :) If you've ever tried shower sex you know how good it can be. However, the water adds additional friction which might even hurt if your partner is well-endowed.
Not every lube is good for under-shower sex. For example water-based lubes will rinse off if you use those under shower. Oil is better. But the best type of lube for having shower sex are definitely silicone-based lubes. Penchant Premium lube is one of the greatest silicone lubes, it is healthy and clean, and it provides for the long-lasting slippery sensation you're looking for.
Another great idea to use silicone-based lube is in any situation involving water. Imagine, you are at the beach having the best possible summer vacation with your partner. Apply some lube to his penis and to your vag, before taking a swim. Then, when you two are far enough, distant from all those beach viewers, take his boy out and make him insert it inside you. This is so hot and so naughty.
If you haven't done that already, do it! You don't know what you're missing.
Thank you for reading our kinky article titled: What is a lube used for? Make sure you come back, new article on sexual health and wellness are coming out every week. Bye!